« Dans nos îles, les essais nucléaires ont endommagé l'âme et le corps de notre nation insulaire. En surface, le site des essais nucléaires parait magnifique. On ne peut pas voir la contamination. Mais à l'intérieur, les cœurs des îles (Moruroa et Fangataufa) sont gravement endommagés ». Sénateur Richard Tuheiava, South-South News
Entre 1966 et 1996, la France a réalisé 193 essais nucléaires atmosphériques et souterrains sur le site des atolls de Moruroa et de Fangataufa en Polynésie française.
Les documents du Ministère de la Défense, déclassifiés l'année dernière, ont révélé que les retombées du plutonium des essaies nucléaire avaient recouvert l'ensemble de la Polynésie. Il s'agit d'une zone de plus 5 000 000 km² représentant plus de deux fois la région de l'Europe occidentale. Tahiti, l'île la plus peuplée, a été exposée à des radiations 500 fois supérieures à la concentration maximale admissible. (A lire : French nuclear tests 'showered vast area of Polynesia with radioactivity', The Guardian, 3 Juillet 2013)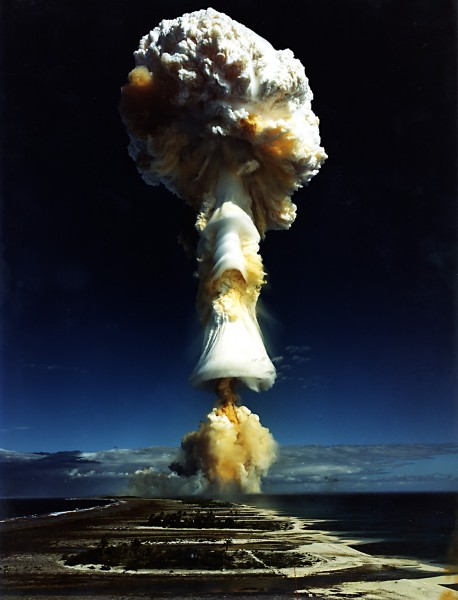 Essai nucléaire français près de Moruroa, en Polynésie Française
Le Sénateur Richard Ari'ihau Tuheiava, un des principaux orateurs au Forum  de l'OSCE de Bâle les 4 et 5 juillet 2014, est l'un des plus jeunes sénateurs français. Il a pour mission de représenter les droits et les besoins en matière de santé des habitants de Te Ao Mā'ohi  (Tahiti). Il fait campagne pour leur indépendance face à la puissance coloniale qui, du fait des essais nucléaires, a exposé la population à des conséquences sanitaires et environnementales.
« Il n'y a pas d'autre région océanographique qui a eu une contamination comme celle de la Polynésie Française. Nous devons être préparé à l'éventualité d'autres contaminations s'il y a une catastrophe sur le site des essais nucléaires ».Sénateur Richard Tuheiava, South-South News
Membre de la Commission des affaires étrangères, de la défense et des forces armées, le Sénateur Tuheiva a brisé le silence au sein du Sénat en ce qui concerne la question de la « force de frappe » française. A travers une série de questions et de motions, le Sénateur Tuheiva a :
fait campagne pour améliorer le suivi environnemental des fuites radioactives de Moruroa et de Fangataufa (sites des essais nucléaires) et pour que les victimes des essais nucléaires obtiennent une indemnisation appropriée;
défié la politique nucléaire de la France en sensibilisant les sénateurs sur les conséquences humanitaires des armes nucléaires et en invitant la France à participer aux conférences organisées par la Norvège et le Mexique sur ce thème (A lire : la question posée au Sénat par le Sénateur Tuheiava sur la Conférence d'Oslo);
fait la promotion des initiatives prises par les Nations Unies dans le domaine du désarmement nucléaire (en anglais) dont le Groupe de travail des Nations Unies à composition non limitée visant à faire avancer les négociations multilatérales sur le désarmement nucléaire (the UN Open Ended Working Group);
souligné l'enjeu auquel la France est confronté au niveau de la Cour Internationale de Justice en ce qui concerne le non-respect de ses obligations en matière de désarmement nucléaire mondial.
De plus, il a fait adopter une loi au Sénat pour que les atolls de Moruroa et Fangataufa soient rétrocédés à la Polynésie français (A lire : French Senate OKs Return of Nuclear Test Atolls to French Polynesia) et il a contribué activement à faire réinscrire Mā'ohi Nui (Polynésie française) sur la liste des territoires non-autonomes des Nations Unies.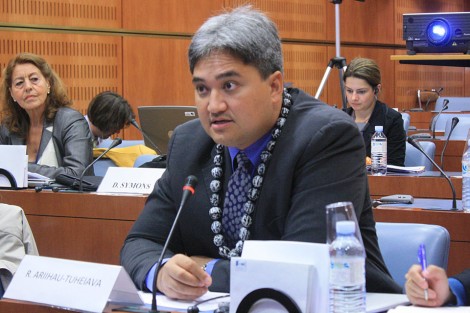 Senator Tuheiava speaking in the French Senate
Le Sénateur Tuheiava a également travaillé avec des parlementaires du monde entier, y compris par le biais de l'Union Interparlementaire, pour promouvoir la paix et le désarmement (A regarder : La vidéo sur le manuel relatif au désarmement des organisations IPU et PNND).
« C'est un problème international. Nous devons l'élever au rang international. Les Nations Unies doivent établir un procédé pour traiter tous les sites nucléaires présents dans le monde ». Sénateur Richard Tuheiava, South-South News
Le Sénateur Tuheiava est aussi actif dans le domaine du changement climatique. Il s'agit d'un autre problème important auquel est confronté l'Humanité. De nombreuses îles du Pacifique sont déjà touchées par les effets du changement climatique avec les marées hautes de l'océan qui balaient les atolls de faible altitude et qui menacent l'ensemble des îles voir même la disparition des citoyens des îles.
Une personne d'une simplicité désarmante et incroyablement gentille (dans l'esprit des îles du Pacifique), le Sénateur Tuheiava sera l'un des plus remarquables jeunes leaders à s'exprimer au Forum de l'OSCE de Bâle.